Take care of your image on your territory
The image of an establishment is determined even before arriving on its Internet page.
Each establishment must be referenced on the main audience hubs (Google, GPS, etc.) and have an up-to-date file with its contact details, opening hours, services, reviews, photos and other useful information for patients.
WeDoxa offers several connectors, including one with the Uberall platform, to organise the distribution of the establishment's details on the main websites and applications.
The centralised and syncronised directory

With the WeDoxa solution, each group of establishments has access to a centralised directory to administer and update all their establishment records. The records are then synchronised with the main audience hubs selected by the group.
Search engines: Google, Bing, Baidu
Voice assistants: Siri, Google, Cortana, Huawei
GPS: TomTom, Waze, Google Maps, Apple Maps, Here and all car manufacturers' GPS systems
Social networks: Facebook, Instagram, Foursquare
European generalist directories: Les horaires.fr, Yandex, Orange, Uber, Nextdoor, etc.
Google review snippets (rich-snippet)
Google offers to display the stars obtained by each establishment directly in its search results.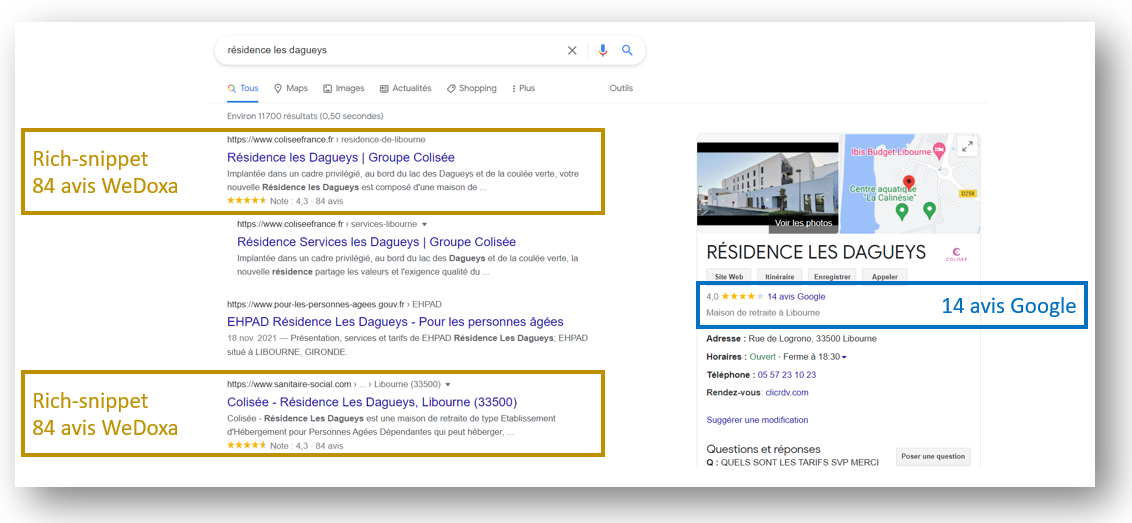 These stars appear when a WeDoxa widget is present on a web page. This can be the institution's own web page or a partner directory. These stars are displayed in Google as many times as there are sites integrating a WeDoxa widget.
The Google's review reffencing has several advantages:
The WeDoxa star rating is a way to compensate a poor rating in Google reviews.
The yellow stars allow you to stand out graphically in the search results.
Google highligts websites with stars and makes them appear higher in the results.
Consolidated statistics at group level
In return, audience statistics on Google and Facebook are returned to the platform by institution and globally. Marketing teams can quickly identify good practices and establishments to support.
More informations