Monitoring your Google reputation
Highly influential and visible, the information pulled up by Google on Internet searches has a direct impact on the image of healthcare establishments. WeDoxa helps professionals to optimise their use of Google tools and to control their e-reputation.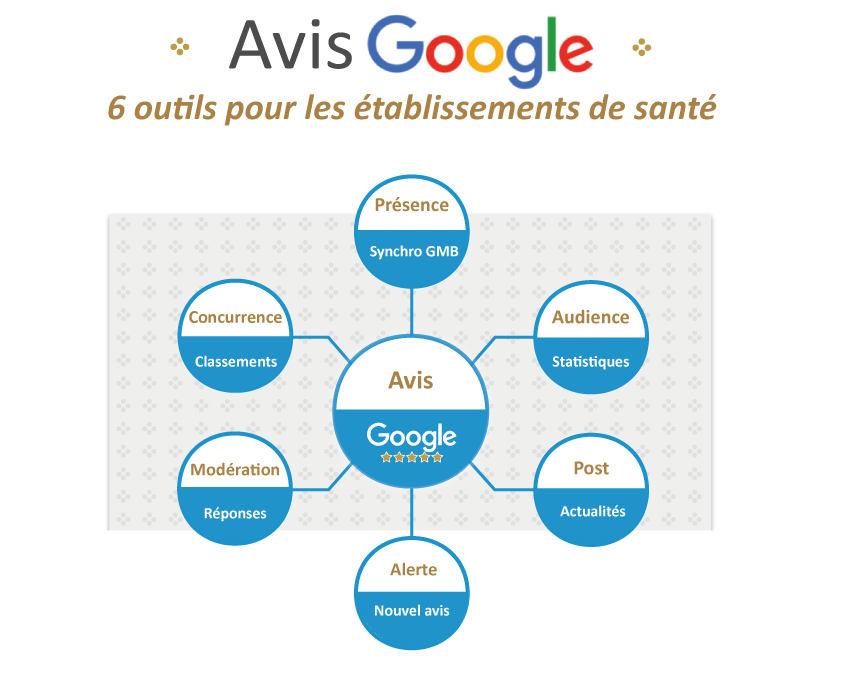 #1 : Presence management
WeDoxa synchronises your business straight with Google My Business. All your forms are supplemented and updated individually and/or en masse.
#2 : Alert for a new review and moderation
WeDoxa sends an alert as soon as a new review is published regarding your establishment. The software then allows you to respond to the reviews and publish the response below the original review. To ensure that you don't forget to respond to negative reviews, notifications are scheduled until a response is made.
#3: Publish positive reviews
WeDoxa offers 2 solutions to control the Google rating. The first solution consists of referencing WeDoxa reviews (solicited reviews) in the Google results in the form of a rich-snippet. The second solution consists of requesting Google reviews from all your contacts (visitors, employees, external stakeholders, etc.)
#4 : Google Posts
WeDoxa centralises the publications of your establishments on Google (Google Posts). The system allows you to write some news and to display it on every Google's establishments accounts.
#5 : Audience
WeDoxa collects audience statistics (views, clicks, actions) and aggregates them into a multi-institutional dashboard. A ranking allows to quickly identify good practices and institutions to support.
#6 : Competitors
The WeDoxa solution calculates in real time your Google positioning and your competitors positioning. The rankings are published on a territorial (institution) and national (grouping) scale.
More information