Our solutions for a successful e-reputation strategy
WeDoxa offers solutions to monitor, both patient satisfaction (quality surveys) and to enhance the team work by publishing patients' testimonials (e-reputation)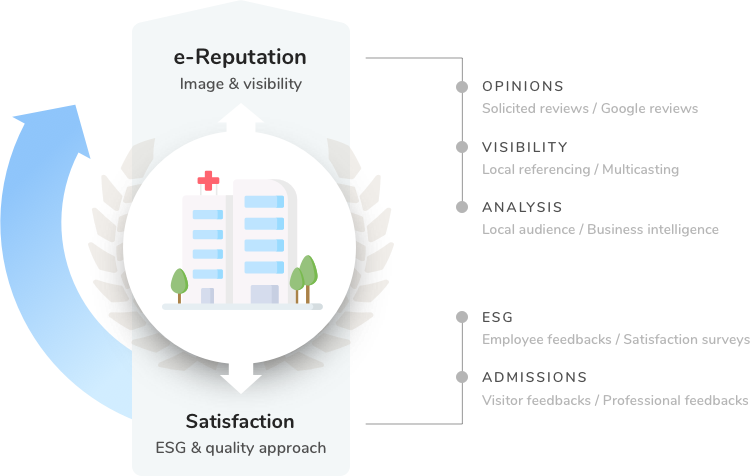 Powerful tools to act on e-reputation
OPINIONS
Solicited and authenticated reviews

Like Google reviews, which anyone can post without even knowing the establishment, WeDoxa solicits the opinions of patients and residents. A system that complies with the ISO 20488 standard to guarantee clear and fair moderation rules.

Google reviews

Be informed as soon as a new review is posted and follow our advice to act on your online image.
---
VISIBILITY
Local referencing

The image of an establishment is determined even before it reaches its Internet page. Discover our tools to optimise its visibility on its territory.

Multicasting to directories

Contact details, opening hours, descriptions, images, services.

Stay up to date and synchronise your data with specialised directories.
---
ANALYSIS
Audience analysis

Benefit from numerous indicators and consolidated statistics at the level of a group of institutions.

Business intelligence

Identify your competitors and track their position on Google. Rankings by establishment and by brand allow you to act in a targeted way on your brand image.
---
Powerful tools for patient satisfaction
ESG : Environnement Social Gouvernance
Satisfaction surveys

A ready-to-use solution to administer easily satisfaction questionnaires and meet regulatory requirements.

Employee feedbacks

Employee engagement is a key factor in the well-being of patients and residents. WeDoxa solicits employees' opinions to establish a social barometer.
ADMISSIONS
Visitor feedbacks

WeDoxa solicits feedback from families after each admission visit. The process helps to identify areas for improvement and to maintain the relationship with your future residents.

Professional feedbacks

The image of an establishment is also conveyed by the professionals in the area. WeDoxa identifies and solicits the opinion of your network of prescribers.